研究室名称:神经分子影像研究室
研究室简介
神经分子影像研究室主要从事神经核医学的基础与应用研究,重点开展用于神经系统SPECT、PET显像的放射性分子探针的设计、筛选,以及利用放射性示踪技术进行神经退行性疾病的基础与应用研究。近年来研制成功的中枢神经系统PET显像药物有:18F-FP-CIT, 18F-FECNT, 18F-FP-DTBZ,用于SPECT显像的99mTc-TRODAT-1, 131I-β-CIT, 131I-FP-CIT(DATScan)。其中99mTc-TRODAT-1已获得SFDA颁发的临床批件,目前正在进行临床研究,该药物是国内第一个用于脑多巴胺转运蛋白显像的单光子类放射性药物,临床上用于帕金森病(PD)等神经系统疾病的诊断与分级以及疗效监测具有良好的临床价值。
获奖及荣誉
国家发明专利
1.一种测定药盒中2β-[N,N'-双(2-巯乙基)乙撑二胺]甲基-3β-(4-氯苯基)托烷含量的方法(ZL200710021211.3)
2.一种N-2-氟乙基-2β-甲酯基-3β-(4-氯苯基)去甲基托烷的制备方法(ZL 2006 1 0039667.8)
3.2β-[N,N-双(2-巯乙基)乙撑二胺]甲基-3β-(4-氯苯基)托烷的药盒(ZL 2005 1 0094635.3)
4.一种巯胺托品含量的分析方法(ZL 2006 1 0040879.6)
5.一种1,4,7,10,13-五氮杂环十五烷的制备方法(ZL03 1 58249.4)
代表性论文、论著
1.Chen ZP, Wang SP, Tang J, Li XM, Liu CY, Xu XJ, Cao GX. Simplified method for determining radiochemical purity of 99mTc-TRODAT-1. Journal of Radioanalytical and Nuclear Chemistry, 2008, 277(3): 591-594.
Abstract
To provide a convenient and facile method to evaluate the radiochemical purity (RCP) of 99mTc-TRODAT-1 in quality control of routine clinical application, a simplified method of single-strip thin layer chromatography (TLC) was developed and validated by high performance liquid chromatography (HPLC). The RCP data of TLC correlated well with HPLC.
2.Chen ZP, Wang SP, Li XM, Tang J, Lin JG. (2S, 3S)-3-(4-chloro-phenyl)-8-methyl-tropane-2-carboxylic acid. Acta Crystallographica, Section E: Structure Reports Online, 2008, E64: o1732.
Abstract
In the title compound, C15H18ClNO2, the internal torsion angles of the tropane ring are comparable to those of tropane rings in the crystal structures reported for cocaine and its derivatives. There is an intramolecular hydrogen bond between the N atom in the tropane ring and the O atom of the carboxyl group. The crystal structure is further stabilized by many weak C—H…O interactions between the molecules in the ab plane, forming a two-dimensional supramolecular network.
3.Chen ZP, Wang SP, Li XM, Liu CY, Tang J, Cao GX, Luo SN, Zhang LF, Jin J. A one-step automated high-radiochemical-yield synthesis of 18F-FECNT from mesylate precursor. Applied Radiation and Isotopes, 2008, 26(12): 1881-1885.
Abstract
2b-Carbomethoxy-3b-(4-chlorophenyl)-8- (2-[18F]fluoroethyl) nortropane (18F-FECNT) is a potential dopamine transporter imaging agent. In this article, a new mesylate precursor was prepared and a one-step automated synthesis of 18F-FECNT was developed. The mesylate precursor (4) was synthesized from 2b-carbomethoxy-3b-(4-chlorophenyl)tropane (1) by N-demethylation, hydroxyethylation followed by mesylation at a total yield of 47%. [18F]fluorination was performed by heating 4mg mesylate precursor and K[18F] in 1ml acetonitrile at 90 1C for 20 min. The crude 18F-FECNT was obtained with a radiolabeling yield of 48%. After purification by preparative high performance liquid chromatography (HPLC), the final 18F-FECNT product was obtained with a radiochemical purity of 98.4% and a decay corrected radiochemical yield of 33±9% (and the uncorrected radiochemical yield was 19±5%, n = 5). The duration of the total procedure was 80–90 min.
4.Wang S, Chen Z, Li X, Tang J, Liu C, Zou M, Pan D, Lu C, Xu Y, Xu X, Zhou X, Jin J. Animal biodistribution, safety and validation study of dopamine transporter PET imaging agent 18F-FECNT. Nuclear Science and Techniques, 2009, 20(1): 11-16.
Abstract
This work was to investigate the pharmacologic characteristics of 18F-FECNT (2b-carbomethoxy-3b -(4-chlorophenyl)-8-(2-18F]fluoroethyl)nortropane) as a dopamine transporter (DAT) PET imaging agent. Its partition coefficients were determined in n-octanol and phosphate buffer (PB) (pH 7.0 and pH 7.4). 6-Hydroxydopamine (6-OHDA) left-sided lesioned Parkinsonian rats were established and validated by rotational behavior tests. Biodistribution in vivo in mice, autoradiography in normal and hemi-Parkinsonian rat brains, and toxicity test were performed. The results showed that partition coefficients were 34.14 (pH 7.0) and 56.41 (pH 7.4), respectively. Biodistribution exhibited rapid uptake and favorable retention in the mice brains. The major radioactivity was metabolized by the hepatic system. The autoradiography showed that 18F-FECNT was highly concentrated in striatum, and that the left and the right striatal uptake were symmetrical in normal SD rat brains. In left-sided lesioned PD rat brains, the striatal uptake of 18F-FECNT bilaterally decreased in comparison with normal rats. No significant uptake was visible in the 6-OHDA lesioned-sided striatal areas. The results demonstrated that 18F-FECNT binds to DAT was specific. Toxicity trial displayed that the acceptable dose per kilogram to mice was 625 times greater than that to human. These indicate that 18F-FECNT is a potentially safe and useful DAT PET imaging agent in the brain.
5.Liu C, Wang Z, Xiao H, Lan Y, Li X, Wang S, Tang J, Chen Z. Synthesis and Crystal Structure of 3-methyl-4-phenyl-5-(2-pyridyl)-1,2,4-triazole. Journal of Chemical Crystallography, 2009, 39: 881-884.
Abstract
The title compound, 3-methyl-4-phenyl-5-(2-pyridyl)-1,2,4-triazole was synthesized by reaction of diphenylphosphazoanilide with N-acetyl-N' -(2-pyridoyl) hydrazine. Crystals suitable for X-ray analysis were obtained from a mixed solution of water and ethanol in a one-to-one volume ratio. The crystal is orthorhombic, space group P212121 with crystallographic parameters: a = 19.414(4) A˚, b = 17.172(3) A˚, c = 7.4850(15) A˚, b = 90.00°, m= 0.079 mm-1, V = 2495.3(8) A˚ 3, Z = 8, Dc = 1.258 g/cm3, F(000) = 992, T = 295(2) K. The X-ray results showed that in the crystal structure of the title compound, the 1,2,4-triazole, pyridine and benzene rings are not coplanar.
6.Liu CY, Zhou AY, Wang SP, Chen ZP. Bis[4,5-dimethyl-2-(2-pyridyl)-1H-imidazole-k2N2,N3](1H-imidazole-kN3)copper(II)bis(perchlorate). Acta Crystallographica, Section E: Structure Reports Online, 2008, E64: m914-m915.
Abstract
In the title complex, [Cu(C3H4N2)(C10H11N3)2](ClO4)2, the CuII cation has a distorted trigonal-bipyramidal geometry defined by a CuN2N'2N'' donor set. The imidazole ligand is disordered over two orientations of equal occupancy. Two of the perchlorate ion sites are located on a twofold rotation axis, and one of is disordered over two sites of equal occupancy. In the crystal structure there is a two-dimensional infinite network of hydrogen-bonded molecules parallel to the ab plane.
7.Li XM, Chen ZP, Wang SP, Tang J, Liu CY, Zou MF. Extractive spectrophotometric determination of TRODAT-1 hydrochloride in lyophilized kit. Pharmazie, 2008, 63(9): 638-640.
Abstract
A simple, sensitive, and accurate spectrophotometric method has been developed for the assay of TRODAT-1 hydrochloride in lyophilized kit. The method is based on the formation of ion-pair associa- tion complex of TRODAT-1 with bromothymol blue (BTB) in disodium hydrogen phosphate/citric acid buffer of pH 4.0. The colored product was extracted with chloroform, and measured spectrophotometrically at 414 nm. Beer's law was obeyed in the range of 5 -25 ug/ml with molar absorptivity of 2.75×104 l/mol/cm. Optimization of experimental conditions was described for the method. The proposed method has been successfully applied for the analysis of TRODAT-1 hydrochloride in lyophilized kit. No interference with pharmaceutical excipients was observed.
8.Li XM, Chen ZP, Wang SP, Tang J, Lin Y, Zhu ZH, Fang P. The preclinical pharmacological study of dopamine transporter imaging agent 18F-FP-b-CIT. Nuclear Science and Techniques, 2007, 18(4): 223-226.
The paper is to study pharmacologic characteristics of 18F-FP-P-CIT (18F-N-(3-fluoropropyl)-2b-carbomethoxy-3b -(4-iodopheny1)nortropane) as an imaging agent for dopamine transporter. The radiochemical purity of 18F-FP-b-CIT in aqueous solution was over 95% after standing at room temperature for 4h. Biodistribution displayed rapid uptake in rat brain (1.375 %ID/organ at 5min and 0.100 %ID/organ at 180 min) and the striatal uptake was 1.444, 0.731, 0.397, 0.230 and 0.146 %ID/g at 5, 30, 60, 120 and 180 min, respectively. The values of striatum/cerebellum, striatum /frontal cortex and striaturn / hippocampus in rat's brain at 30 min were 3.38, 2.17 and 2.40 respectively. The uptake in striaturn can be blocked by b-CFT, suggesting that 18F-FP-b-CIT binds to DAT peculiarly. The compound was rapidly cleared from monkey's blood. The striatal uptake was bilaterally decreased in the left-sided lesioned PD rats, compared with normal control. Brain PET imaging studies in normal monkey showed that 18F-FP-P-CIT was concentrated in striatum. The test of undue toxicity showed that the dose received by mice was 1250 times as by human, which indicates that 18F-FP-P-CIT is very safe. So 18F-FP-P-CIT is a promising PET imaging agent for DAT with safety and validity.
| | |
| --- | --- |
| | |
18F-FECNT对正常(左)与单侧PD模型大鼠(右)的microPET显像图
研究室负责人
陈正平,男,博士,副研究员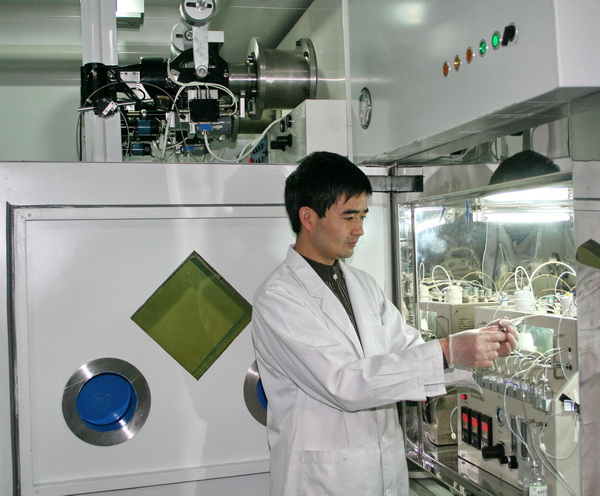 联系方式
E-Mail:czp72@163.com